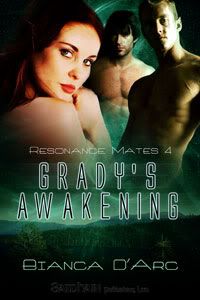 Greetings to those of you in blogland. I'm Bianca D'Arc and I write all kinds of speculative romance from fantasy and sci fi romance to military paranormals in varying shades of super naughty to nice. Some of you might know my
Dragon Knights
epic fantasy erotic romance series or maybe my
Resonance Mates
futuristic erotic romance. Or maybe you've seen some of my vampire or werewolf novels around. Recently I've branched out into a new area that's not quite horror, but it does feature zombies quite prominently.
One might think zombies and romance are mutually exclusive but I beg to differ. My newest series of books, which happen to be my first books for Kensington's Brava line feature zombies and are most definitely romances. The heroes are all military men with heroines of various professions. They all share in the battle to contain a scientific experiment gone horribly wrong.

The series will consist of two novellas and three novels. The first novella was released in an anthology called Half Past Deadin January. The first novel is called Once Bitten, Twice Deadand will be hitting stores in early March.


The second novella will be included in a Halloween anthology called The Beast Within, which will also feature stories by Erin McCarthy and one other author. The second full-length novel will be released in November 2010 and is titled A Darker Shade of Dead. The third novel will be out sometime in 2011 but I haven't come up with a title for it yet.

Now, you may be wondering – why zombies? To be brutally honest, it wasn't really my idea. I swear! It was one of those things where an opportunity arose but the story had to be about "zombies." That's what the editor said. I was a little taken aback, I will admit, but after a few moments of thought, I figured a way to do it. There were no other limitations other than there had to be zombies, so except for that slight wrinkle, I was free to create any world or circumstances I wanted, which was great.

I figured I could go two ways with zombies – either the legendary voodoo type zombies or some kind of science-experiment-gone-wrong type zombies. I opted for the slightly campy science-experiment type zombie because I have a science background and I like to get that into my writing when I can. I also really love writing military heroes. Those tough Alpha males are fun to write! But I didn't want the heroine to be forever in the hero's immense shadow. I wanted to write modern women who were capable and bright – and able to fight the zombies alongside their men. I hope I've achieved that balance and I hope you'll enjoy the cast of characters I've developed for this series.

In other news, I also have a lot of print releases from Samhain Publishing this year. Just this month, an anthology of three of my vampire novellas released called Brotherhood of Blood. These three stories form the foundation for my vampire world, which continues in other books that are already available. Due to some small press publisher growing pains, they had to be reissued when their original publisher went out of business. I enjoyed reworking the stories – making them longer and better, in my opinion – before they were reissued by Samhain.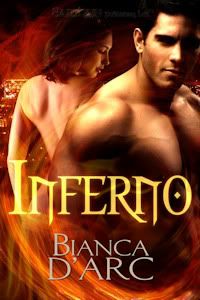 A follow-up to these three stories is the novel Inferno (Tales of the Were), which will be released in print on April 1st. It is a crossover story that mates an ancient vampire with a lone werewolf girl who's been sent to spy on him by his enemies. Add a fey knight in the mix and you have a recipe for some scorching hot romance and adventure as a rogue mage lobs hellfire at every turn.

Other print releases this year include the fourth book in my super-hot ménage sci fi romance series called Grady's Awakening (Resonance Mates) on June 1st and later in the year, DRAGON STORM will come out in print. I think it's slated for a September release. Unlike my other dragon stories, this one is a dimension-travel story that brings two shapeshifting dragon princes into our world for a while. I had a little fun with them, putting them on an airplane and toying with their perceptions of our modern world for some moments of humor along with a lot of adventure.

Here's a little heads up for those of you with Sony eReaders – from March 1st to March 4th, they are supposed to be offering FREE downloads of HALF PAST DEAD to coincide with the release of ONCE BITTEN, TWICE DEAD. Nice, huh? Make sure you mark your calendars and get your free download when it becomes available!

In the meantime, I'd like to thank Heather for inviting me here today. And thanks to all of you for taking time to read about my books – especially my new military romances with zombies. Happy reading!