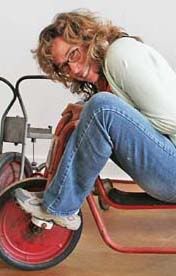 Spring -- a time when the earth begins to thaw, when snow turns to rain, when the Easter Bunny leaves lots of yummy jelly beans in brightly colored baskets -- is one of my favorite seasons. But probably not for those reasons.
Sure, those are all good things. Great things, even. But the reason Spring is so utterly fabulous is that she's the life of the party. If Spring were a person, she'd be captivating, fetching, darling.
She'd bring lots of goodies to the table, not like Fall who'd fill up the buffet table with Grandma's recipes. Spring would bring tidbits and punch. Figs and olives. Blood oranges and kumquats. Powdered sugar covered lime tarts. Spring would play loud music, but it would exceptional music and totally danceable.

Because for me Spring embodies the pure joy of jumping off a cliff -- not to your death, but to adventure.

Spring is the time when you leave that heavy winter coat behind and immerse yourself completely in whatever it is you love.

For me, that's writing and stories.

And so I try to take a bit of Spring with me into my work.

In order to be a good writer I believe you have to dive head first into your story. You have to taste the kumquats at the party, quench your thirst with your main character's latte, and let the blood oranges dribble down your chin.

You have to believe in your characters.

You have to live in the town where they live, whether it's an enchanted forest or an apartment in New York City. You have to cry for your characters because you've given them so much emotion you can't help yourself.

So abandon yourself over to Spring. Invite her to your heart. I'm pretty sure she'll liven up the place. (And if you don't recognize her look for the girl wearing the cutest little cocktail dress and the most adorable shoes.)

Author Michele Corriel's Fairview Felines: A Newspaper Mystery will be released from Blooming Tree/Tire Swing Press in July 2010. Learn more about Michele at her website.

All the cats in Fairview disappeared and only Thomas Weston, newspaperman extraordinaire (and eighth grader) can find them. All the while Thomas battles the never-ending hysterical headlines that pop up in his head!

What is your favorite 'rite' of spring?