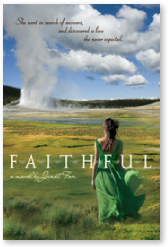 When I was a teen, spring break would have found me…reading. Well, okay, just about any time of the year would have found me reading. As a little kid I was the one under the blanket with the flashlight – and the Nancy Drew, or the Narnia books, or just about anything I could get my hands on.
So I have a "true confession" about my obsessive reading. A story that lives on in our family just to amuse everyone else and embarrass me.
I was about 14, and it was spring break – and I remember that it was spring break because we had chocolate bunnies on the counter. I was home and (yes) reading, and my mom, who was a great cook and worked hard to make good healthy meals, asked me to watch a pot on the stove while she took a well-earned break in the other room.
In the pot were green beans, and they were supposed to boil for ten minutes (or something, which I can't remember because I was reading after all.) So, sure! I told her I'd watch the beans and turn off the stove after ten minutes.

Remember – I was sitting right there, next to the stove. Reading.

The next thing I knew, the kitchen was filled with smoke, and my mother was yelling and flapping her arms, and my mother never yelled or flapped. The water in the pot had boiled off and the pot had melted onto the stove. I never noticed, because I was... My mom, when she quieted down, banned me from the kitchen from then on.

I would bet that Maggie, my character in FAITHFUL, would initially have a similar kitchen problem because when the novel starts she's pretty helpless about taking care of things domestic. Someone would have cooked for her, and she wouldn't have a clue how to manage. By the end of the novel, I like to think she could handle just about anything.

So – do you prefer to cook, or to read? Or both?

Excerpt from Faithful
"I could not escape the question of what would become of me. In one direction my future was wide open. A great gaping hole waited there with nothing to hold me up. I imagined I was standing at my window at home, right at the sill, or on the cliff facing the sea. What would it be like to leap, to let go and fall?"

Keep up with author Janet Fox via her website. Her novel Faithful will be released May 13, 2010.