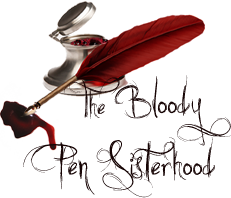 I know there are lots of my family and close friends who may disagree with this statement, but I'm too nice. ~Okay, at least in my writing~
When writing, I tend to have problems with the bad guy. A pretty big problem since I write suspenseful stories. I prefer to keep them off the page since it's easier to deal with finding them, instead of making them look villainous. I haven't written from the villain's point of view. In fact, most of my bad guys are just that...BAD guys and it's hard for me to call them villains. Their activities aren't revealed in the written story, their activities are mainly off the page and keep my heroine & heroine guessing at the intent.
I just finished writing my second Harlequin Intrigue and thought I knew who the bad guy was throughout the entire story. Hey, I'd written a synopsis. I'd plotted a majority of the book, or a good portion had been outlined and discussed with my critique partners. Then on page 199 (of a projected page count of 220) the real villain revealed his or herself (not giving this away). Everything was crystal clear and yet totally surprised me. I'd already laid the groundwork throughout the story with the exception of one clue. But then again, I shouldn't be surprised at all. I'm a pantzer and love when a story develops through my fingertips instead of me over-thinking the conclusion. THAT's what I love about writing.
BJ, Mallory, and Carol--three of my fellow Intrigue authors--told me about their writing experiences regarding villains:

My villains never reveal themselves until the end -- even to me! I never know who the bad guy is and love it when I'm surprised. I suspect everyone as I'm writing the book. It's my suspicious nature, I guess. :) All the characters have at least a motive and at least one secret. Makes it fun. I had a really good time in my October book, Whitehorse: Winchester Ranch Reloaded: Boots and Bullets
, because my hero sees the murder while in a coma in the hospital. I know, huh? It made for great fun for me to write it. The setting was the old abandoned hospital just a few blocks from where I live. Scary! At the same time, the book moves toward a resolution of another murder involving another Winchester. I like keeping a lot of balls in the air! The Winchester series ends in December. B.J. Daniels.

Many times, especially in my spy thrillers, I make my villain known to the reader early on. The suspense and intrigue come in the form of what that villain is going to do next to get to the heroine or hero. In other books, like Circumstantial Memories
, the villain isn't revealed until late in the book when it's rescue time. Occasionally, the villain changes over the course of the book (and I'm not telling which books!). The McClintock Proposal
, 9-10 Carol Ericson

I love to reveal my villains in the beginning of the book. Since I do often name the villain at the beginning (and include his POV) I guess I'm more of a writer of suspense than mystery. I have had the villain change before I finish the book, but not very often. The villain in my October 2010 book, Double-Edged Detective
, is a serial killer who is revealed early in the book, but not caught until the end. The heroine of my November 2010 book, The Pediatrician's Personal Protector
, is the serial killer's daughter. In this book, the villain is a mystery until close to the end of the book. I had a great time writing these two books, because the heroes are identical twins who have very different ways of doing their jobs and relating to their heroines. Mallory Kane

So my question today ~ ~ As a reader, do you prefer your villain to have an active role in the book, or is it better to have their villainous activities and character "off the page"?

'Til next time,


Hill Country Holdup
,
Harlequin Intrigue 9/10
AngiMorgan.com